Those enthusiasts looking to add pre-painted or blackout styling to their 2005-2014 Mustang are in luck–MMD has a pile of new matte black and pre-painted styling parts for you. These exclusive parts are brand new and offer a look you won't currently find on another Mustang. Be the guy on your block the other Mustang owners want to emulate and see what unique parts MMD has to offer.
As always, pre-painted parts from MMD are sprayed to match exactly with your factory colors and are made from durable ABS, coated in OEM quality clear coat, and professionally finished with urethane paint, exactly as you'd get from the factory. Leave the bondo and fiberglass behind, you won't need it as the installation is simple and should take you approximately an hour's time.
One of the best looking and most popular Mustang spoilers of all time is the ducktail spoiler. It gives your car that pissed off, "don't mess with this" attitude while retaining the sleek, clean look of a spoiler-less Mustang. A perfect compromise between the OE style spoiler and GT500 spoiler, MMD's ducktail spoiler is a classic design perfect for the modern muscle car.
Set your Mustang apart from the rest and install a matte black roof spoiler on your 2005-2014 Ford Mustang. The install requires no drilling, no bondo, no fiberglass and should only take a novice 15-20 minutes. It doesn't get much easier than that. Combine a roof spoiler with a set of quarter window louvers and you'll have a custom combination that will turn more than a few heads.
MMD Hood Vent Louvers – Pre-painted & Matte Black (2005-2009 Mustang GT & V6)
Bring a dose of '13/14 Mustang styling to your 2005-2009 GT or V6 with MMD's hood vent louvers. They act as fully functional heat extractors, lowering engine temperatures and translate to real world results. Designed to be installed on the factory hood, these vents do require cutting of the hood and should be professionally installed. That said, you will save a ton of money installing these when compared to the cost of a new hood.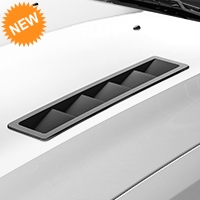 MMD Trunk Emblem Surround – Pre-painted & Matte Black (All 2005-2009 Mustangs)
If you're not a fan of the stock chrome faux gas cap on your 2005-2009 Mustang, MMD has a solution. Their matte black trunk emblem surround will cover up that chrome and help you complete the overall style and design you have planned for your S197 Mustang. 3M tape will attach the surround to your trunk lid in an easy, peal-and-stick method that should only take you 5 minutes to complete. As far as low cost, impactful mods go, MMD's truck emblem surround is hard to beat.