Shifting gears is the most crucial part of driving a Mustang and SR Performance is here to make sure you never miss another shift! From the factory, the stock shifter leaves a lot to be desired. One of the first mods a lot of Mustang owners undertake is upgrading to an aftermarket Mustang shifter. One of the best options available to Mustang Owners is the SR Performance line of Mustang shifters.
SR Performance is one of the most-trusted Mustang aftermarket parts companies around, who offer a wide-variety of different Mustang Parts. One of the most desired parts they make are Mustang shifters and short throw shifters. A short throw shifter is an amazing mod for Mustang owners as it greatly reduces the stock shifting distance as well as eliminating that 'uncertain' soft shift. SR Performance shifters
change the profile of your shifts giving you tighter, more accurate shifts that allow for faster times at the track and more enjoyment on the street.
One of the first mods for Mustangs should always be a new shifter and SR Performance has an amazing selection of shifters that will fit the needs of any Mustang owner. Check out SR Performance's great selection of shifters for 79+ Mustangs.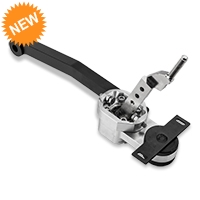 SR Performance Shifter – 2011 – 2014 Mustangs
SR Performance Shifter – 2005 – 2010 Mustangs
SR Performance Shifter – 2001 – 2004 Mustangs
SR Performance Shifter – 1982 – 2001 Mustangs