MMD has just released their brand new Zeven Wheels and AmericanMuscle is excited to now carry them for '05+ Mustangs! Wheels are one of the first upgrades for Mustangs and really help to give your Mustang a personalized, distinct look. With the new Zeven Wheels by MMD, you can give your Mustang that classic 10-spoke look, but in a sleek and defined
package.
Taking inspiration from track-ready styling, Zeven Wheels give your Mustang are very modern and tasteful take on the 5 point design. Offered in charcoal, black, and silver, Zeven wheels come in a wide-selection of sizes that will cater to your desired performance and styling. These wheels can easily manage street, strip, or track duty while looking flawless.
MMD
is well known within the industry for the high-quality production of all their parts as well as their signature styling. The Zeven Wheel line maintains the hallmarks and integrity of the MMD brand while offering Mustang owners a unique look for their Mustang!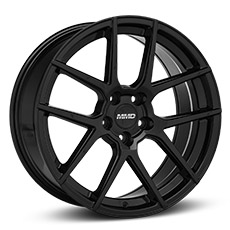 Zeven Wheels for '05 – '14 Mustangs