One of the best and easiest ways to transform the look of your 2015 Mustang is with a set of racing stripes. For 2015 there was no option from the factory to have stripes on your S550 Mustang, leaving many enthusiasts looking for an aftermarket solution.
AmericanMuscle offers a wide selection of decals, stripes, and graphics for your 2015 Mustang, allowing you make your 'Stang one-of-a-kind.
Mustang Stripes: Leman's, V-Series, and Super Snake
When it comes to giving your Mustang a more intimidating, race inspired look, a set of stripes running down the center of the car is one of the best ways to do it. When it comes to the stripes themselves, you have a few different options you can choose from. If you are looking for the classic, old school style of stripes, then you will want to go for Leman's stripes. A modern take on the classic style, V-Series stripes
give a new age interpretation of the retro look with an added bit of aggressiveness as the taper in the front of the hood. If you wanna go bold, be noticed, and intimidate the competition, then Super Snake Stripes will give you the look you want.
Rocker Stripes
The side profile of the S550 Mustang is drop dead gorgeous, with great lines and curves that give it the sleek profile it has. You can draw more attention to those lines while also giving it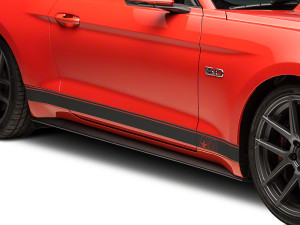 a classic and aggressive look with a set of rocker stripes. Rocker stripes will run right parellel to the rocker panel, helping the eye to pick up those touches of the design.
Hood and Roof Decals
If you are looking to do something different than the conventional method of adding stripes to your car, hood and roof decals will give you the
look you want. When placed properly, hood decals will pull out the details of the lines of your hood, while a roof decal will better break up the look, ultimately giving you one mean looking ride.